Updated Grant Information -2022 Grant Cycle will Open on August 1, 2022
BCF 2022 Grant Eligibility and Guidelines
BCF 2022 Grant Application Form – Fillable (Available August 1, 2022)
The 2022 application period for the Bellevue Community Foundation's Community Grant Program will begin on Monday, August 1, 2022 with a deadline of Friday, September 9, 2022. 
Bellevue Community Foundation Grant Information
The Bellevue Community Foundation Grant Program provides an opportunity for not-for-profit charitable organizations to secure financial assistance for programs or projects which will enhance and improve the quality of life for Bellevue residents. The Foundation has a strong commitment toward programs benefiting health, art, culture, community, economic development, education, and human services.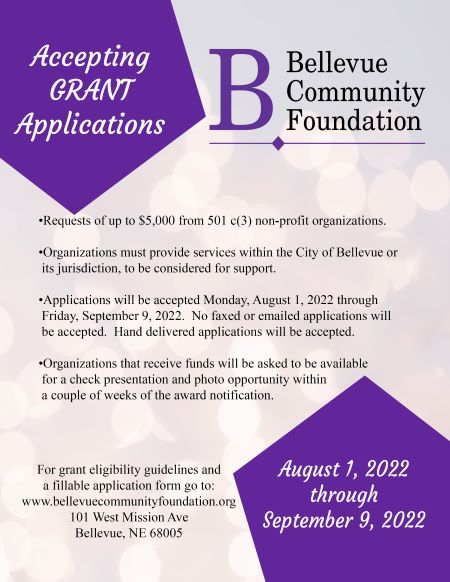 BCF's 2019 Grant Recipients
Merrymakers Assoc. receives $4,000 to help provide 36 live music performances to senior facilities in Bellevue.
Omaha Performing Arts receives $1,000 for it's K-2 Musical Explorers program that serves 433 Bellevue Students.
S.A.V.E. receives $5,000 to assist with their academic mentoring program that matches BPS and North Bellevue OPS students with college students on college campuses.
Bellevue Women's Club receives $1,500 for planters and plants in Old Town.
Bellevue Fire Department receives $5,000 to help fund the reinstatement of the BFD Medi-Bike team.
American Legion Post 336 receives $2,000 for it's monthly food pantry/bingo night.
LeMay Elementary School receives $4,420.92 to assist with the development of a Sensory Space to assist students with special needs.
Knights of Columbus (St. Mary's) receives $5,000 to assist in the cleanup of their hall that was severely damaged by flooding.
Belleaire Elementary seeks $2,385 for it's school poverty simulation.
BPS Academic Center of Excellence receives $3,000 to provide driver's education and community activities to disadvantaged students.
Country Bumpkins 4-H Club receive $5,000 for facility repairs and improvements for their kids programs.
Gross High School receives $3,000 for it's career and college planning program
Banister's Leadership Academy receives $2,000 for it's youth evening programs
BCF's 2018 Grant Recipients:
The Bellevue Senior Community Center received $5,000 towards the purchase of chairs for the Senior Center. The Bellevue Senior Center is an exciting place for senior citizens which offers a large variety of games, activities, bus trips, parties, daily lunches, a weekly evening dinner and support groups for our area seniors.  They strive to be the area focal point for seniors, while treating them with respect and dignity they deserve. This grant will allow the senior center the opportunity to replace their aging dining rooms chairs with brand new chairs that are stable and safe for our seniors. The Senior Center serves over 1000 meals a month on a contribution only system and No one is ever turned away from a meal due to finances.
The Latino Center of the Midlands has been awarded $5,000 for it's Pathways to Success Program at Bellevue East and West High Schools. The mission of the Latino Center of the Midlands is to enhance the lives of the Heartland Latino Community by supporting the education and development of our youth and adults; The Pathways to Success Program reengages youth who are chronically absent to school by working to remove barriers to consistent attendance, build positive school engagement and life skills development, and provide wrap around services to the youth and their families.
The City of Bellevue Parks Department has been awarded $5,000 toward tree planting along the trail in the Two Springs neighborhood. The Parks Department is responsible for over 700 acres of parks and green space within the city. This includes Kramer and Haworth Parks, the Dog Park at Jewell Park and the Frisbee Golf course at Aspen/Sun Valley Park. The Parks Department is also responsible for the maintenance of all City trails, the right of way mowing contract, and tree maintenance throughout the city. The purpose of the grant is to purchase trees for the Two Springs Neighborhood Daniell Trail area that was damaged from last years tornado.
The American Heroes Park Volunteers received a $5000 contribution towards the construction of the war on terror memorial in American Heroes Park. AHP Volunteers adopted American Heroes Park in May 2017, and have since organized over 250 volunteer/community service hours caring for the park. In April 2018, AHP Volunteers established the American Heroes Park Fund to support the park's improvement and sustainment needs; and is now raising funds to build a War on Terror Memorial in the par. These funds will be used to finalize the War on Terror Memorial design, and begin construction in Spring 2019.
The Teammates mentoring program of Bellevue received $5000 toward activities for their 101 mentorships in Bellevue. The Mission of TeamMates is to positively impact the world by inspiring youth to reach their full potential through mentoring.  Established in 1991 by Tom and Nancy Osborne, TeamMates was formed in an effort to provide support and encouragement to school-aged youth. The goal is to see youth graduate from high school and pursue post-secondary education. This grant will fund a summer camp for Bellevue Public Schools mentees in grades 8-12 which will expose the mentees to community service, cultural experiences, and post-secondary opportunities.
Habitat for Humanity of Sarpy County received $4,000 towards the beginning of their 45th Home Build. Since 1996, Habitat for Humanity of Sarpy County has sold 42 fully-priced houses to qualified, low-income families. All Habitat Partner Families pay a modest down payment, sign standard loan documents, and make affordable, monthly mortgage payments to repay the 0% interest loan over 30 years. With stable, inexpensive housing families can: provide stability for their children, gain improved health, physical safety and security, an opportunity to be engaged in their community, and increase educational and job prospects.
Greater Omaha Attendance & Learning Services Center received $3200 towards expenses for family advocates that serve students in the Bellevue Public School District.  In August of 2011, the superintendents of the eleven public school districts in Douglas and Sarpy Counties released a plan to improve student attendance. This plan created a comprehensive school district/community approach to absenteeism that is cooperative, innovative, and is based on solid research and experience.  The GOALS Team concept has the potential of becoming one of the most effective, child-centered collaboratives that the metro area has ever experienced.
PromiseShip  received $1,000 to use towards their Foster Parent Appreciation Event. PromiseShip, works with more than 5,000 children and their families who are involved in the child welfare system in Douglas and Sarpy Counties. They go beyond basic provision and address problems and situations that impact struggling families. To eliminate gaps in services, we focus on existing community providers and bring them together to create a network of services for families, leading to more successful outcomes and breaking the cycle of system re-entry altogether. PromiseShip served 1,135 children in foster care in 2017, including approximately 400 children from Sarpy County. This event gives us the opportunity to recognize and thank foster families for opening their homes to children in need while providing them with a fun-filled evening to spend together.
BCF's 2017 Grant Recipients:
The following organizations received grant funding from the Bellevue Community Foundation prior to the kick off at Saturday's event. These Grants totaled $30,100:
Bellevue Economic Enhancement Fund will receive $5,000 for the expansion of Bellevue's Avenue of Flags. For the past several years the flags have flown along Mission Avenue and Franklin Street in Olde Towne and onto Galvin Road from May to November. Three years ago, the Avenue of Flags continued to expand west along Highway 370. Their goal is to continue expanding the avenue of flags in other areas of our community.
Assistance League of Omaha has been awarded $2,500 for its Operation School Bell program which will provide winter clothing for 218 needy students at 18 Bellevue schools. Operation School Bell has a positive effect on student self-confidence, attendance, behavior and peer relations.
Students Activities Values Education (SAVE Program) receives $5,000 for its bi-weekly academic mentoring program for under served BPS students. SAVE provides kids the opportunity to participate in an extracurricular activity is the primary initiative to encourage active involvement in a child's education and community. By creating that connection between academic success and athletic/extracurricular support, their programming helps kids reach their potential both in the classroom and on the field.
Bellevue Public Library Foundation has been granted $4,600 in matching funds for a mobile computer lab to launch tech classes for Bellevue Residents ages 5-105. The Bellevue Public Library provides resources, services, and programs that serve the diverse informational, educational, and recreational needs and interests of the community.
City of Bellevue Recreation Department shall receive $5,000 to replace two baseball/softball scoreboards at Baldwin Field. The Department of Recreation offers a variety of activities that appeal to the diverse interests of our community and strives to meet the leisure needs of our citizens. The Recreation Department offers 50 different activities throughout the year, providing recreational outlets for an estimated 97,000 participants.
Bellevue Public Schools Early Childhood Center will receive $2,000 for expansion of it's outdoor classroom. The Early Childhood Center is an educational center intended for children birth to eight years old and their parents. The center is open to families that reside in the Bellevue Public Schools attendance area or active duty military families.
American Legion Post 339 is awarded $2,000 for the Victory apartments which services homeless and low-income veterans. Martin Graves Post 339, Bellevue American Legion Post has existed since 1927 in Bellevue.  Post 339, functions to provide a service to Veterans, their families, children and youth and to the community as well.
Eastern Nebraska Community Action Partnership (Food Bank) has received $2,000 to assist in the upgrade of its facility at Washington Park in Bellevue. Through a variety of programs, from behavioral health, to food and nutrition, to family support, and providing transportation, ENCAP uses best practices and innovative programming to make a meaningful difference in the community.
Sarpy County Historical Society is awarded $2,000 for the second phase of digital preservation of over 100 years of City and County newspapers. The Sarpy County Historical Society oversees and operates the Sarpy County Museum. The society has a long and proud tradition of working with community partners to preserve and promote the rich history of the area. They continually provide educational opportunities for the young and old in our community through our partnerships with local community schools, guided tours, and ongoing program offerings.
Bellevue Community Foundation's Grant Application Period will Open on Monday, August 1st 2022
The 2022 application period for the Bellevue Community Foundation's Community Grant Program will begin on Monday, August 1, 2022 with a deadline of Friday, September 9, 2022. A copy of the application packet can be found at bellevuecommunityfoundation.org starting on August 1, 2022.